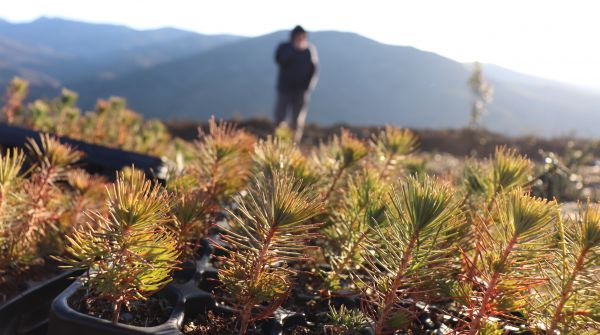 Project to compensate a large part of the emissions generated by our industrial activity.
ROVI, in collaboration with ReTree, has launched the initiative ROVI's Forest, a wood planted in the Madrid Sierra to offset part of the emissions generated by its industrial activity. With this reforestation project, ROVI and ReTree are partnering to recover an area that has been degraded through agriculture and livestock farming, as well as excessive felling. The initiative forms part of ROVI's carbon footprint reduction strategy and Group employees have participated by activating the 2,000 specimens that make up ROVI's Forest using a QR code.
The space is in the Valle de los Sueños, an area of the Sierra del Rincón (Madrid) with exceptional forest ecosystems, among which its groves of native oak and pine trees stand out. The Pyrenean oak (Quercus pyrenaica), the holm oak (Quercus ilex) and the Stone pine (Pinus pinea) are the three native species chosen to reforest this space, with which ROVI hopes to help slow down desertification and create employment in a rural environment, as well as to offset part of the CO2 emissions generated as a consequence of its production activity.
> Learn about the history of the ROVI's Forest
Likewise, this initiative has been registered with the Ministry for the Ecological Transition and Demographc Challenge.
> Certificate of registration in the Absorption Project Section of the Register of Carbon Footprints, Compensation and Carbon Dioxide Absorption Projects