At ROVI, we have developed a leading-edge line of research in the field of prolonged drug release using ISM® technology.
The patented ISM® drug-release platform allows the sustained release of compounds administered by injection.
It has the following advantages:
Reduces variability
Improves stability
Reduces the number of doses necessary
Improves the degree of patient adherence to the prescribed treatment.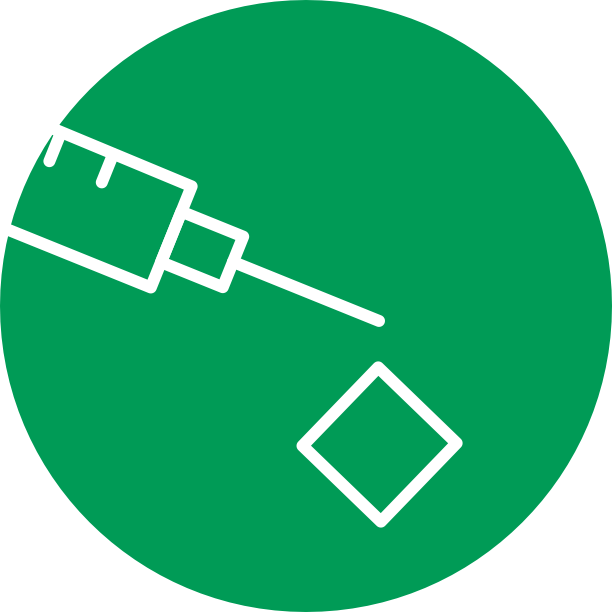 <! -- // row inner -->
How does it work?
After reconstitution, a suspension is obtained and is administered through an intramuscular injection. This precipitates at the injection site, giving rise to a biodegradable solid or semisolid implant that contains the active substance. As the implant erodes, the active substance is released over time in a controlled and sustained manner.
What are the benefits?
This technology is intended to overcome most of the disadvantages found in prolonged-release oral or injectable formulations and has advantages such as:
Simpler to administer
High encapsulation efficacy
Greater stability of active substance
Greater control of the initial release of the drug, among others
What does this mean?
This line of research opens up the possibility of competing in new therapeutic areas, such as psychiatry and oncology.
In 2016, we made significant progress in developing the first candidate of our leading-edge drug-release technology, ISM®, for the extended release of risperidone, a second-generation antipsychotic medicine , the use of which is consolidated for the treatment of schizophrenia.
The phase II clinical trial of Risperidone ISM®, "PRISMA-2", concluded successfully and the favourable final results were presented on 13 March, 2016 at the 24th European Congress of Psychiatry1. The PRISMA-2 study is an open parallel phase II clinical trial carried out at four United States centres. The main objective of this trial was to assess the safety and pharmacokinetic profile of multiple intramuscular doses of Risperidone ISM® in 67 patients with stable schizophrenia. The PRISMA-2 study also showed that Risperidone ISM® reaches therapeutic levels in plasma as from the first few hours after the drug is administered, without the need for any oral risperidone supplement, and provides extended release over the four-week period covered by the dose, with multiple intramuscular injections , irrespective of the part of the body where it is injected (gluteus or deltoid).
The clinical development of Risperidone ISM® continues and recruitment for the Phase III study, PRISMA-3; commenced in the United States in May 2017.
In addition, ROVI hopes to commence the first Phase I clinical trial of Letrozole ISM® in the second half of 2017. Letrozole ISM® is a long-acting injectable aromatase inhibitor to treat hormone-dependent breast cancer.
1Pharmacokinetics, Safety, and Tolerability of Four 28 Days Cycle Intramuscular Injections for Risperidone-ISM® 75 Mg in Patients with Schizophrenia: A Phase-2 Randomized Study (PRISMA-2). 24th European Congress of Psychiatry, March 13, 2016, Madrid (Spain) [http://epa-abstracts-2016.elsevier.cc/#289/z]
<! -- // row inner -->